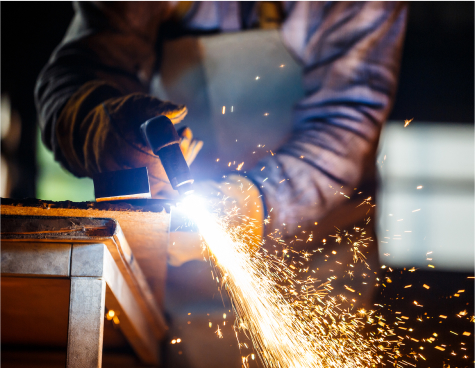 In 2009 new workshop was build, by using of our own investments.
New production facilities can greatly expand the range and improve the quality of manufactured products, as well as reduce time of order performance.
Bridge cranes with a lifting capacity of 10, 20, 32 tons, height to crane hook 12 meters.
Gas and plasma cutting machines (12×2.5m)
Automatic band saws
Machining facilities
CNC horizontal machining center DOOSAN DBC 130L
X axis – 4000mm
Y axis – 2500mm
Z axis – 2000mm
W axis – 700mm
B axis – 360 degr (positioning – 0.001degr)
Spindle speed – 2500rpm
Max table load – 12000kg
CNC turning center DOOSAN PUMA 480M
Max. turning diameter – 900mm
Working length – 951mm
Driven tools (5000rpm)
CNC turning center DOOSAN PUMA 3100XLY
Max. turning diameter – 420mm
Working length – 2125mm
Driven tools (5000rpm)
Y-axis
CNC vertical machining center HARTFORD Super Tornado HCM 1270 AP
X axis – 1270mm
Y axis – 650mm
Z axis – 630mm
Spindle speed – 8000rpm
Turning lathes
Milling/boring horizontal and vertical lathes
Rollers FACCINE 4HEL / S Type 3139 (Length – 3100mm)
Roll bending machine FACCINE 4HEL / S Type 3139 (Length – 3100mm)
CNC press brake. The punch length is 4 meters, maximally bending is 400 tons.
Assembly conductors
EWM and Lincoln Electric welding equipment
Surface treatment
Sandblasting
Painting