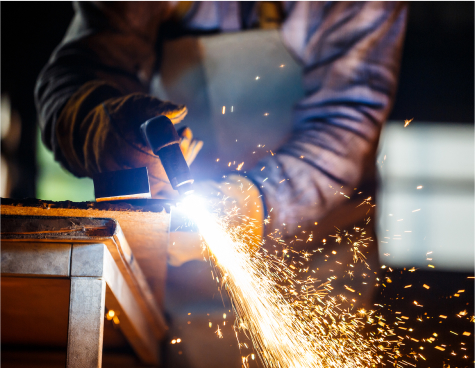 Using our own investments, we built a new workshop in 2009.
Adding a new manufacturing plant and production facilities enhanced the range of our product line, improved their quality, and reduced the time it takes for orders to be delivered.
Bridge cranes with a lifting capacity of 10, 20, 32 tons, height to crane hook 12 meters.
Gas and plasma cutting machines (12×2.5m)
Automatic band saws
Machining facilities
CNC horizontal machining center DOOSAN DBC 130L
X axis – 4000mm
Y axis – 2500mm
Z axis – 2000mm
W axis – 700mm
B axis – 360 degr (positioning – 0.001degr)
Spindle speed – 2500rpm
Max table load – 12000kg
CNC turning center DOOSAN PUMA 480M
Max. turning diameter – 900mm
Working length – 951mm
Driven tools (5000rpm)
CNC turning center DOOSAN PUMA 3100XLY
Max. turning diameter – 420mm
Working length – 2125mm
Driven tools (5000rpm)
Y-axis
CNC vertical machining center HARTFORD Super Tornado HCM 1270 AP
X axis – 1270mm
Y axis – 650mm
Z axis – 630mm
Spindle speed – 8000rpm
Turning lathes
Milling/boring horizontal and vertical lathes
Rollers FACCINE 4HEL / S Type 3139 (Length – 3100mm)
Roll bending machine FACCINE 4HEL / S Type 3139 (Length – 3100mm)
CNC press brake. The punch length is 4 meters, maximally bending is 400 tons.
Assembly conductors
EWM and Lincoln Electric welding equipment
Surface treatment
Sandblasting
Painting